"There will be 1,000,000 more computer science related jobs than computer science students by 2020."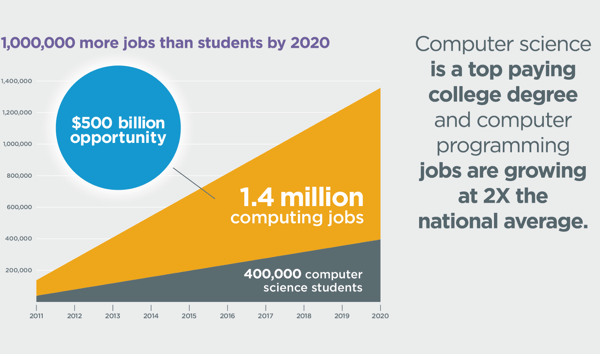 Source
CS education —building the pipeline.
Why can't the U.S. education system keep up with the booming job demand? There are not enough computer science educators.
Data has shown us that 40% of high schools offering at least one computer science course while 93% of parents want their children to be studying computer science. So why don't schools simply hire more computer science educators? There are already more job opportunities in computer science than trained individuals, therefore those that do have computer science degrees are being lured away from teaching for better paying jobs.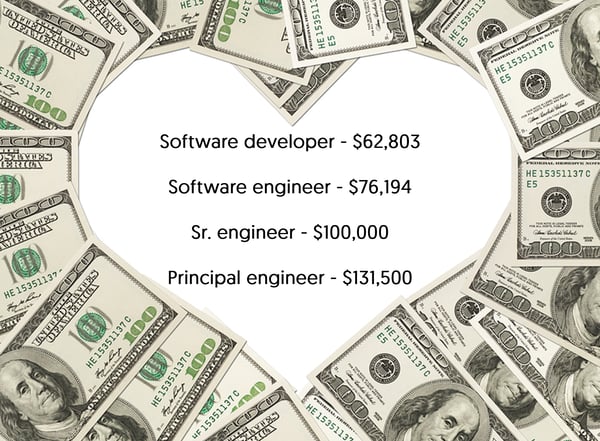 Graphic based on payscale.com's survey of 451 computer engineering professionals
There will not be a surge of CS educators anytime soon, so how else can we keep up with the growing demand of computer science education?
Revamping the computer science curriculum
Many experts thought massive open online courses (MOOCs) would be the solution to bridge the technology skill gap. This buzz stirred startups to create the best MOOC environment. Remember names like Udacity, Udemy, Coursera and edX? Enrollments in these courses were skyrocketing. Until they weren't. Rarely any students were finishing the courses and enrollment rates soon declined.
"They[MOOCs] are dead…our mission is to bring relevant education which advances people in careers and socio-economic activities, and MOOCs aren't the way."
— Clarissa Shen, Udacity's VP of Business Development
MOOCs had trouble maintaining the human element. The course quality was high, but someone studying computer science or other highly technical skill sets need continuous and consistent feedback. Education is about relationships and role models. These relationships give students more of an obligation to complete their work while the feedback allows them to overcome learning obstacles.
MOOCs were certainly a step in the right direction because course management was automated, however too much automation caused the human touch to disappear. Institutions still continue to teach CS in a historical fashion. This will work until the demand exceeds the capabilities and resources of these instructors.
Historical Methods Include:
Hiring a plethora of teacher's assistants (TAs) or manual grading conducted by an instructor.

Using textbooks — which have inflated in price at a faster rate than the consumer price index.
In September of 2017, Mimir conducted a survey with 112 students that were based out of TechPoint's Xtern Program here in Indianapolis, Ind. Xtern places top technical talent from across the country with top tech firms locally. Of the 112 students surveyed, here's what we found:
28.6% of them had served as TAs at their respective college

Exactly 50% of those surveyed reported that it took more than two weeks to receive their grades after making assignment submissions.

Of those who did receive feedback, 75.9% felt that the feedback they received was not strong enough to help them learn from their mistakes.
Courses conducted in a historical fashion can still be extremely high quality courses, but they are not prepared to scale as CS enrollment numbers exponentially rise.
The Answer:
Find the middle ground between MOOCs and Historical Methods
Maintaining a human touch while supplementing the course with online tools that allow for scalability is a viable option. Instructors can then teach double, triple, or quadruple the amount of students they are currently teaching by automating the tasks that take up the most time. These time-heavy tasks include building a portfolio of projects, grading, course management, and plagiarism detection.
Automated tools, like Mimir Classroom, allow instructors to maintain course quality while reaching more students.