In my prior two posts, I shared examples of feature and user support initiatives you should consider as part of your product strategy to support scale. In this post I want to focus on a single initiative that can have a dramatic impact on your product's ability to scale — whether or not to publish pricing.
If you aren't publishing your pricing you are making a big mistake and potentially wasting a prospect's time!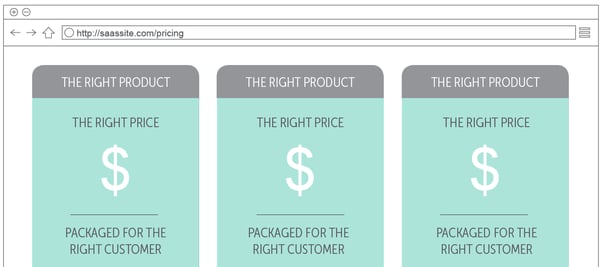 Theory vs. practice
The arguments for not publishing pricing are good in theory, but put too much burden on sales to execute. The theory is that through discovery, a salesperson can consult and assess the value of the problem the prospect is looking to solve. Only then do they deliver pricing that is appropriately aligned. In practice, this simply doesn't scale. In real life buyers are expecting to learn what they need from a company's website prior to a sales call. If the prospect does take the sales call without seeing a price tag, frustration often follows when a salesperson prods them for further discovery before sharing the cost.
Further down the funnel
With many salespeople juggling inbound and outbound leads, they don't have the luxury of spending excessive time to develop and mature each opportunity. A recent study by the CEB (now Gartner), The Digital evolution in B2B Marketing, shows that 56% of the buying decision for B2B product is made prior to the first contact with a salesperson. Every step that shortens and simplifies the buying process can dramatically improve conversion and reduce costs on both sides of the equation.
Remove the some of the burden from salespeople
Scaling a sales team is difficult. To achieve sales goals, sales managers often hire less experienced, less expensive, entry-level salespeople to achieve scale. When pricing and packaging are not published, the least experienced members of the sales team are forced to individually discover, educate, and position the product. Add those factors to activity-based incentives and you have a recipe for poor performance.
Product and marketing teams should strive to position products so that customers can self-identify with the best possible package that fits their need prior to the first call. This allows salespeople to focus on optimizing the later stages of the buying cycle.
Allow salespeople to guide the conversation past pricing
Approximately 60% of buyers ask about pricing on the first phone call according to Buyers Speak Out: How Sales Needs To Evolve. If salespeople and customers share the same point of reference (the product positioning aligned with pricing and packaging) it's much easier for future customer to identify an alignment with your products. Salespeople then have the latitude to engage with prospects on their package or feature requirements before explaining how (and if) the product they're selling will make a good fit. This propels both parties into deeper value questions earlier in the sales funnel.
Lost Unknown Opportunity
Oftentimes prospects have limited time to make buying decisions. Due to this, if they cannot find qualifying factors prior to an RFP, they will disqualify vendors as potential solutions without any communication.
Achieve scale by leveraging the buyer, product, and marketing
For software as a Service (SaaS) products, few things can have a bigger impact on your ability to scale than the pricing and packaging of your products. For this reason, it's important to make sure products are easy to find and understand. Salesforce, Sendgrid, and Wistia are all good examples to follow. Each presents the positioning that aligns the buyer's needs while offering enough pricing details to initiate the buying discussion.
In December 2017 Mimir will be updating our pricing to better represent the high schools, community colleges, and universities that buy and use our products. More information to come.