According to code.org in 2017, a record number of high school students participated in the AP Computer Science exams. The trend was in the right direction for the past 10 years, but really hit an inflection point in 2017. We believe this will continue and that high schools need to serve this growing need.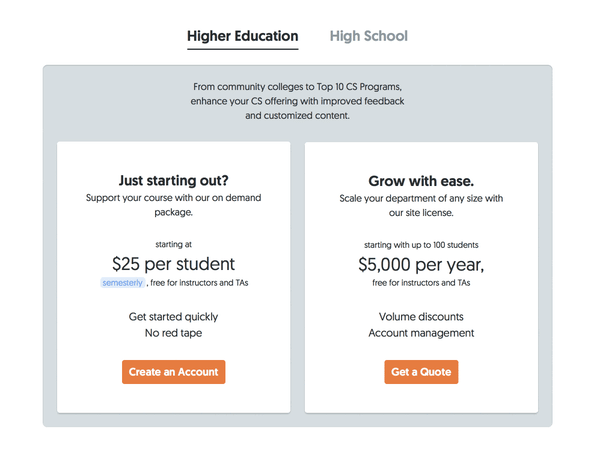 We are excited to introduce a new and affordable product package specifically designed to support high schools. Mimir's high school package will cost individual students $1 per month. This is far below our cost to support this kind of software, but the team at Mimir is committed to lowering the cost for computer science education and preparing students for higher education and beyond.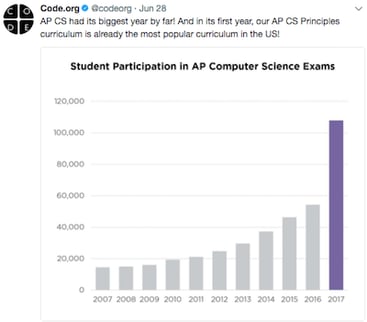 This new package offers all the features needed to teach the recommended AP curriculum and has been proven by university students to improve and accelerate the learning of computer science concepts.
Also new — Mimir's higher ed pricing is now in alignment with credit conversion.
The prior pricing model, while simple to understand, didn't account for schools on a quarter-based term. We now align the price with the generally accepted conversion of credit hours (1 semester = 2/3 for quarterly). This means that the quarterly price is now $17 per student, per term, and the semester price stays $25 per student, per term.
We are also working to better align to the needs of community colleges and coding academies. Contact us for details and to see if your school qualifies for additional discounts.
Product Improvements for Higher Ed
The Mimir IDE (2.0) has made substantial improvements in user experience and performance. The latest version of the IDE is five times faster to scale and can distribute computing resources in a much more efficient way. There are also great new features for students and instructors for debugging test cases, keyboard shortcuts for power users, and even custom themes (because we all have or favorite workspace color themes and layouts).