We've been through quite a few offices during the last few years. Here is a quick look at our office history.
Spring '14 — Summer '14, (Office-less)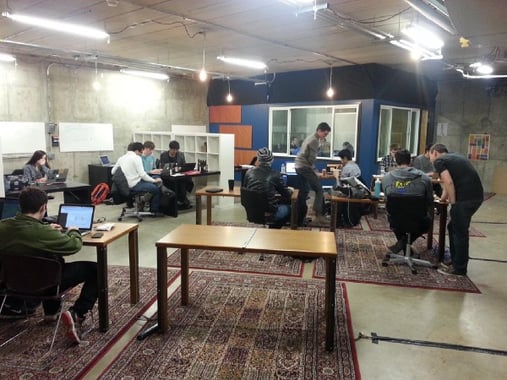 The old Anvil co-working space
In 2014, when Mimir was founded, we didn't really have an office. We alternated meeting at one another's dorm rooms and the common space in old Anvil co-working building (this is where The Boiler Business Competition accelerator was being held). I don't have photos of our dorms (will continue looking for them) but here is one of The Anvil building.
We kept this up until the start of the summer of 2014, when we moved home to Indianapolis. Then we started taking turns working out of each other's homes. When we went back up to Purdue for the fall semester, The Anvil had found a new home in a former church building right next to Purdue's Memorial Union. As winner of The Boiler we were offered a free, semi-private office space for a year.
Fall '14 — Spring '15, Semi-Private Office at The Anvil

Mimir's semi-private co-working space at The Anvil.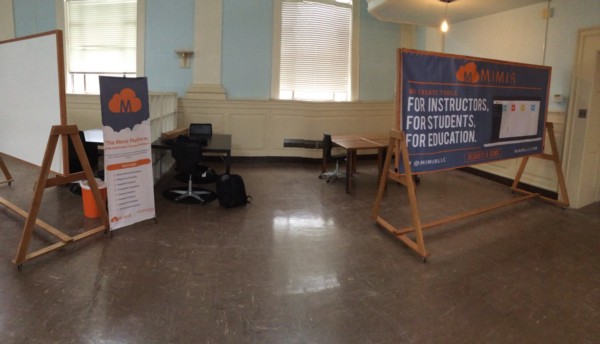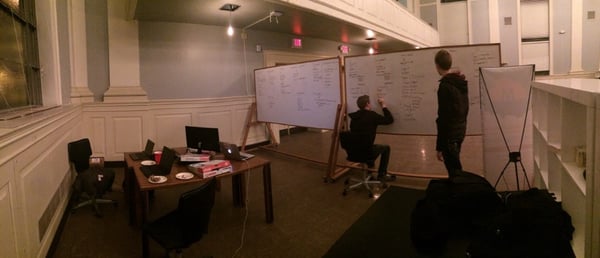 Two of our co-founders, Jacobi and Colton, working at The Anvil.
The shared space didn't start out very tailored to our brand, but we tried to make it our own. We spent many late nights here building our core product, Mimir Classroom.
Summer '15, Our Temporary YC Office In San Jose

During the Summer of '15 Mimir was part of the Y Combinator Summer Batch. Cobi, Colton, and I took a 4am, flight from Indianapolis, IN and arrived in San Jose, CA around 11 PST. We threw our stuff in an apartment we had leased (without ever seeing it in person) and went straight to Ikea. At Ikea we bought three lawn chairs and three mattress pads before ordering three desks with chairs to be delivered the next day. Afterwards, we got Chick-fil-A on the way home and dined in our lawn chairs. At this point, we were exhausted so we threw our mattress pads on the ground and went to bed.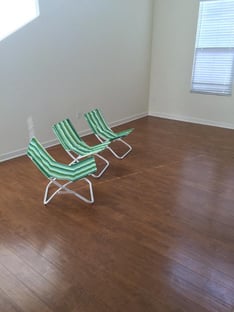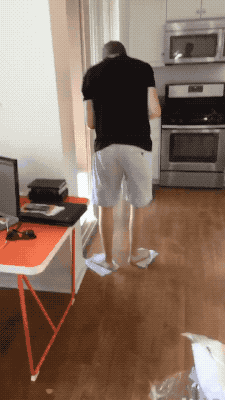 (Left) Our then home and office (on day one) out west; (right) Jacobi cleaning before we moved out.
The next day our desks and chairs arrived. We set them up in the living room of our one bedroom apartment. For the next three months, this is where we worked 10–12 hours a day, six days a week. It was rough, but we have great memories from this office and building the groundwork of our company. Shortly after YC Demo Day we cleaned up this spaced and moved back into The Anvil in West Lafayette, Ind.
Fall — Winter '15, First Private Office at The Anvil

Mimir's first private office after a fresh coat of paint.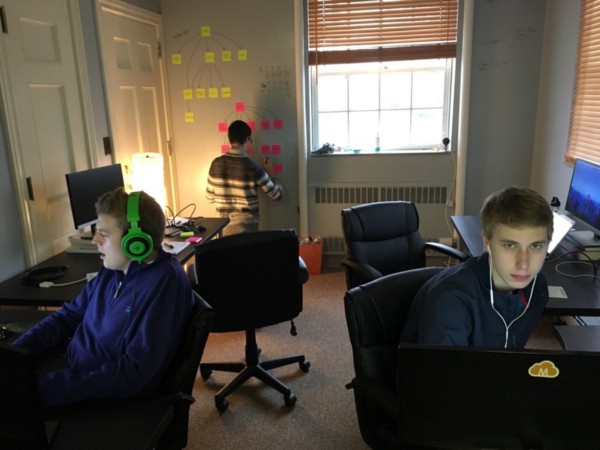 Working out of our new office. Ben (in the back) was working with us part time back then. He now works with us full time as our lead designer.
At this point, we had dropped out of school and were committed to Mimir full time. We decided that to focus on our work we needed a more private space. Thus we leased a small room in the back of The Anvil, bought more Ikea furniture, and made it our new office.
Timelapse of the office set up during two days.
Spring '16 — Spring '17, Office 2.0 at The Anvil
It didn't take long before we decided to grow our team and needed more space. Thankfully the company next door to us in The Anvil had just moved out and their space was open. It was in a slightly rough state when we took over but we fixed it up with some carpet and paint.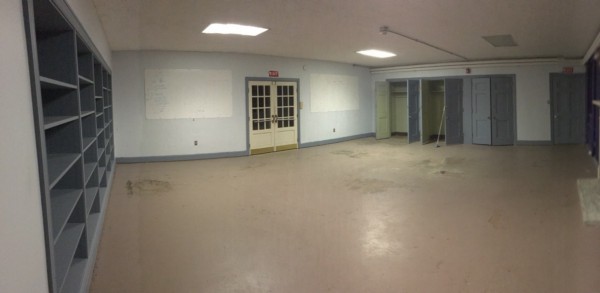 The new office when we took over.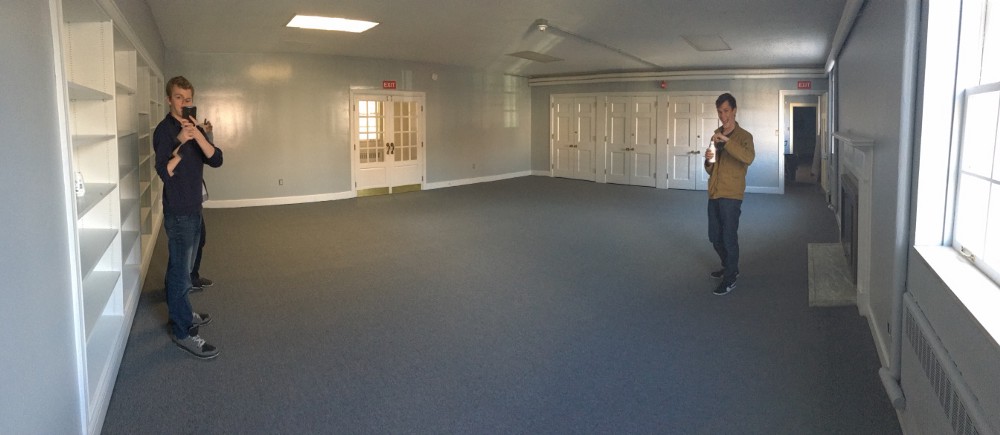 Post paint and carpet at our expanded space in The Anvil. Pictured: Jacobi and Ben.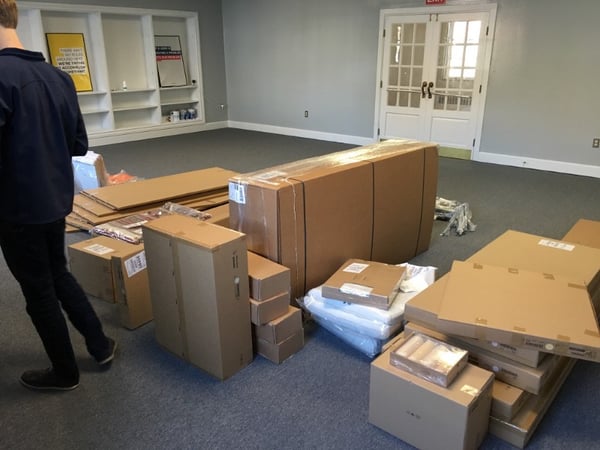 And of course we got some more Ikea furniture.
Here's the timelapse of this set up too.

The finished product.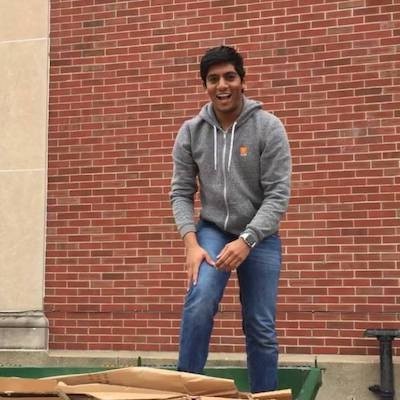 Me jumping on cardboard inside of a dumpster trying to get it all to fit.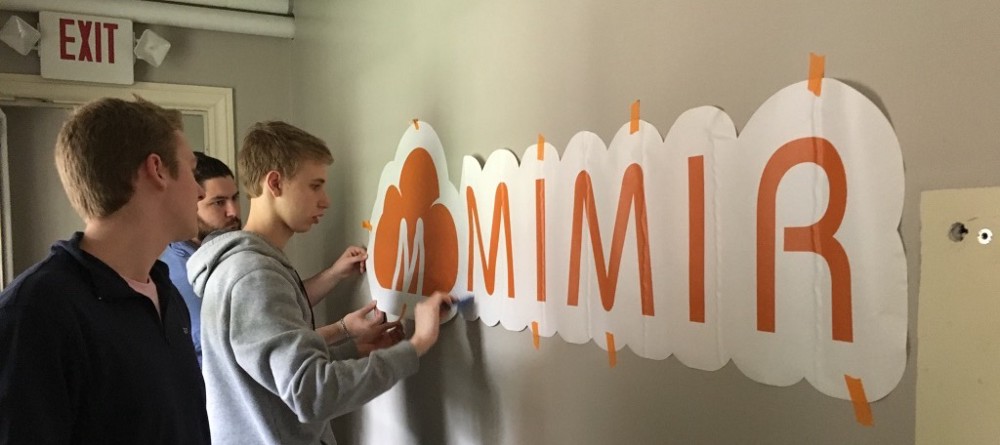 Putting up our sign for office 2.0
Summer '17 — Now, Office 3.0 In Downtown Indianapolis
After a meeting with a few of our investors we decided it was time to scale. West Lafayette was a great place to get started but we needed access to a bigger city for more resources and talent. That led us to Indianapolis. Thanks to our broker, Joshua Abrams from Resource, we were able to sign a lease in record-breaking time on a 3,200 square foot office space right downtown off of Monument Circle.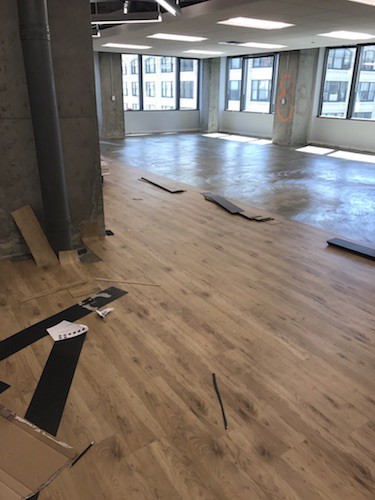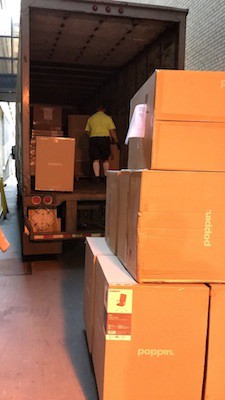 A few days after we laid down vinyl hardwood and painted the walls our furniture arrived. We had a logistics hiccup and our team had to break down and carry eight pallets of furniture up to our suite over the course of five hours.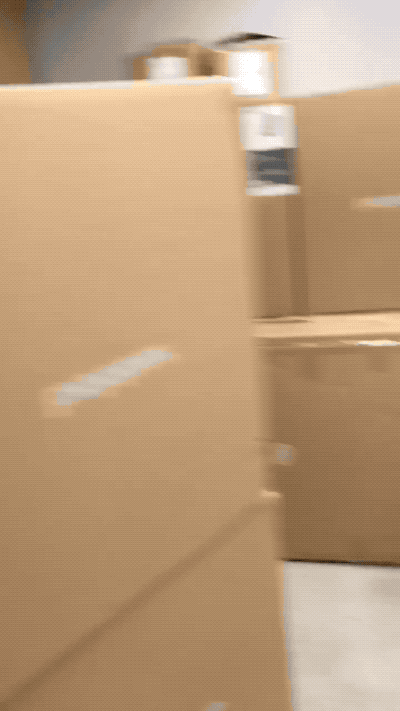 The calm before the storm.
The entire team helped build all of the furniture. Here is a recording of a livestream of the entire process.
And after a few months of refinement and addition, here is the office now.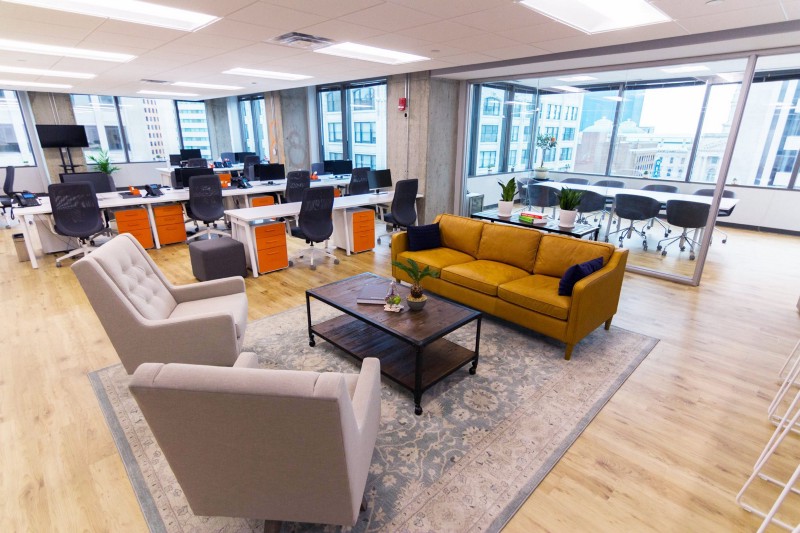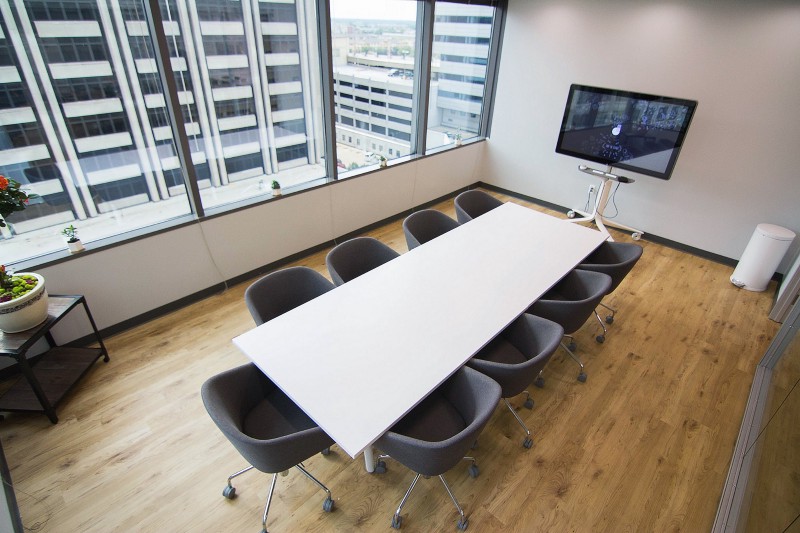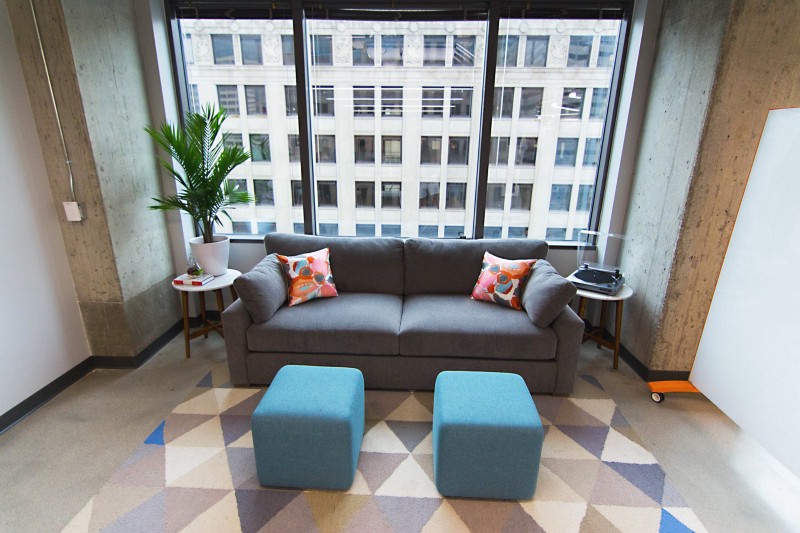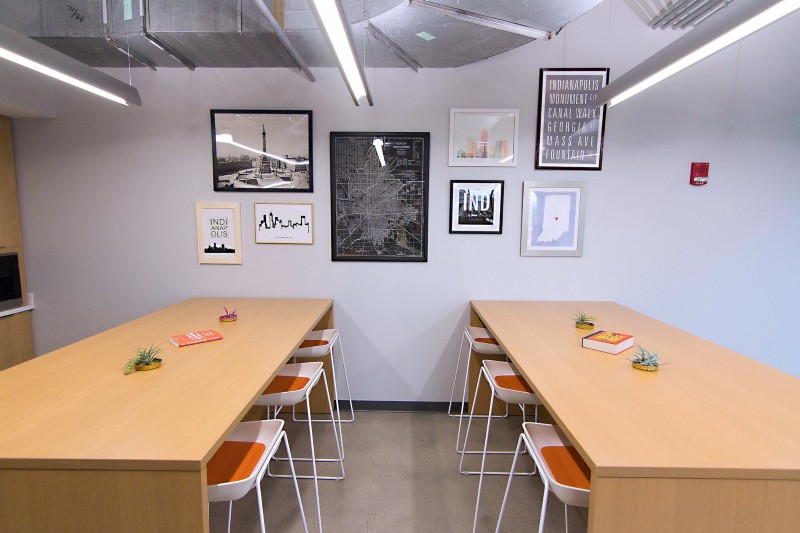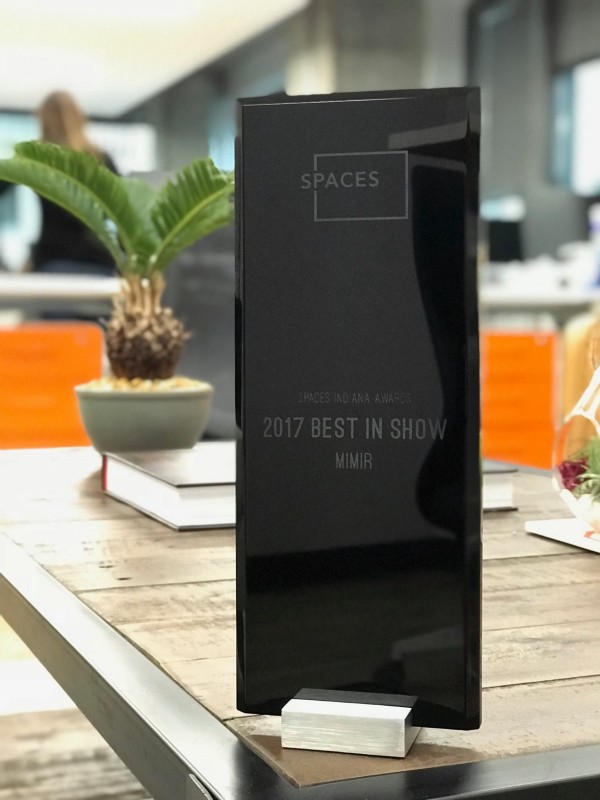 Thanks to the efforts of Alex Curtis and Haleigh Inscore, our office 3.0 turned out amazing and even won an award from Spaces Indiana for being one of the best in Indianapolis.