Some companies don't have funds to support on-site marketing resources (yet). Before pushing aside all marketing and PR efforts until the budget aligns, learn how to get easy, inexpensive publicity for your organization.
Joe Pulizzi is the CEO of Content Marketing Institute (CMI). In 2013, I engaged with him directly during an #etcafe (ExactTarget before it became Salesforce) Twitter chat on the topic of content marketing.
We need our content to add to the conversation: blogs are best for that, for social, LinkedIn rated as most effective." - Joe Pulizzi
Do that — add content to the conversation.
Your team doesn't need a marketer to begin crafting simple content and gathering quality storytelling artifacts. Start by submitting employee hiring and promotion announcements to local media outlets (newspapers, trade journals, and newsletters). Usually submissions are simple forms and don't require a formal news release. Be sure to accompany these announcements with quality* headshots and once they're published cross promote on social media.
Boost your brand.
Have your team members author independent LinkedIn posts on personal accounts, collaborate on blog posts through established channels, and talk on thought leadership topics. Alma mater, industry-specific, role-specific, or trade-specific discussion panels are breeding grounds for thought leadership. Amidst this, don't pass on opportunities to record testimonials and gather quality feedback from your customers!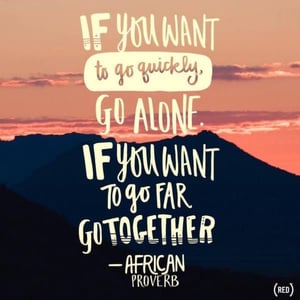 A company's community can encompass cities, industries, or people. Engaging in all of your available communities creates a reputation that can later be validated and proven through marketing.
Grand and humble strings connect your brand to companies who have already established public platforms. Be good to those partnerships and your company could have opportunities to be featured in case studies, keynotes, joint press releases, and owned content of other brands.
In Indianapolis, Ind., there are civic service opportunities for Indy Do Day, the Indiana Blood Center, and Riley Children's Hospital (to name a few). For our area, these are easy ways to give back to others while hopping on the coattails of fuzzy PR.
On the thread of community, there are always events happening throughout the city. Whether attending as an individual or team, these unsuspecting gatherings are also a fruitful place to un-pitch* to other professionals from the area.
Engage in grassroots marketing.
Earlier in my career I spent time working on aggressive grassroots marketing tactics as part of a new customer recruitment strategy. As a marketer, I initially felt my deliverables were inferior to the media buyer on my team because it seemed that these tasks were very straightforward and simple to achieve. I soon found that my contributions were just as important as the ad buys.
It's the content that your personas see subtly (where they shop, commute, and live) that help to build brand recognition in their buyer's journey.
Keep swag on hand.
Purchase branded shirts for your team to wear to community events, branded tchotchkes to give out at external meetings, and consider blanketing targeted areas with magnets, flyers, etc., as necessary.
Online swag (SEO) is a good idea too.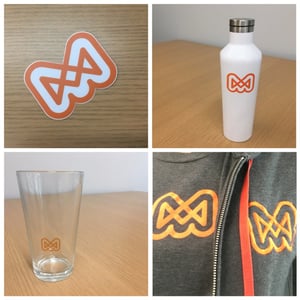 If you're working with a third party to build a company website, ask if they can recommend SEO tactics or improvements. If they want to charge extra for those services, Meg with Clapping Dog Media built a guide for anyone willing to self educate. Once you have a high-level understanding of this 'SEO thing' you have greater negotiating power to make your website better than it would have been.
For more great content marketing tips, explore some of my favorite resources:
Google Keywords Planner (for your website SEO)