When I first moved to Indianapolis at the beginning of 2017, I knew I wanted to find a new career within technology. Luckily, a family member referred me to Techpoint.org, a local non-profit devoted to connecting Indiana-talent with relevant jobs, internships, and educational programs. I was able to find my current role at Mimir through their job board. Due to my positive experience with TechPoint, I was officially part of the "tech scene" in the Fall of 2017. Shortly after, I began to wonder what other resources were available to new "techies" like me and how I could even find such organizations.
Earlier this year I joined Pride IN Tech, a professional networking group for those who are both working in technology and part of the LGBTQ+ community. I sought out and discovered this group on my own, but I wondered... How are those new to Indianapolis or the tech community going to find such groups without a starting point?
First, I wanted to know more about history of the tech industry in Indianapolis and how it had evolved. I decided that learning how theses companies were founded and how much growth were they expecting may also help determine if networking groups were developed as creative spin-offs or public forums.
In my research I discover this graph in a G2Crowd article. Below you can see that there has been exponential growth of software companies since 1999. What surprised me most was that with this indoctrination of new technology in the Circle City, that there weren't networking groups that bridged companies like ExactTarget, Angie'sList, SlingshotSEO, and Apparatus together. At least not for the novice searcher like me.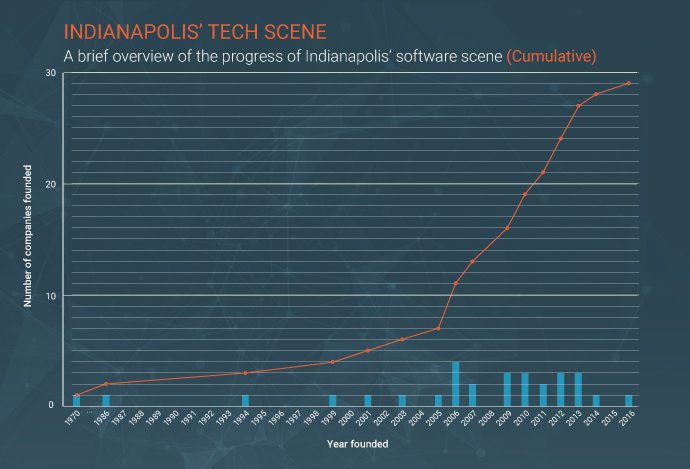 I continued exploring the roots of Indy tech to get a understand how new tech grew to seasoned tech and later evolved in Indianapolis. I discovered that the foundation for technology in Indianapolis was solidified with the founding of (most notably) ExactTarget in the early 2000s.
To get a baseline for current networking groups, I polled my co-workers to see what groups, organizations, and meet-ups they had joined. Not only could this help me find networking groups for consideration, but I could correlate their founding to that of the older Indy-based tech companies. Here's what they shared:
After researching the social groups and organizations that my colleagues are apart of I realized that most of the networking groups are much younger than the tech companies themselves. My suspicion is that many tech companies fostered their unique cultures by hosting and sponsoring their own events around thought leadership topics during this time.
With a hypothesis for a company versus networking group dateline established, I began to question what other interests exist in this space that my teammates are not currently making time to pursue. If they had more time, or if they made more time, for meet-ups that brought them value or social groups that could nurture their skills, how would they go about researching or finding those opportunities based on their current connections?
I came upon this article from Indy at Work that lists a number of groups devoted to the growth and collaboration of the tech industry in Indianapolis. I also explored Meetup.com (since this is where I found my first networking group) where there are often tech lead events posted. As of May 2018, there are more than one hundred meetups in the Indianapolis area focused on tech.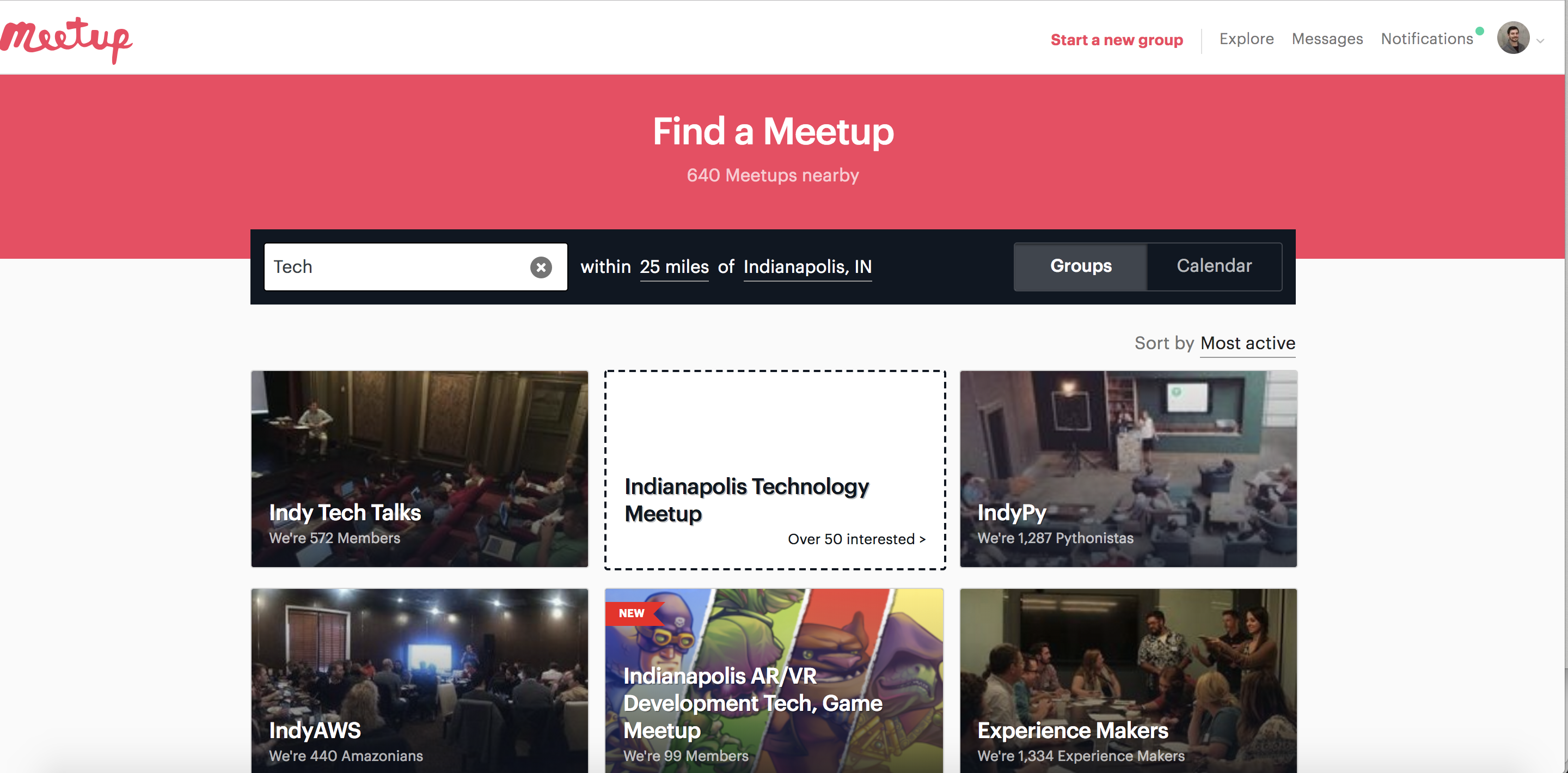 Similar to Meetup.com, Eventbrite.com will display paid or free tech events in your preferred area too.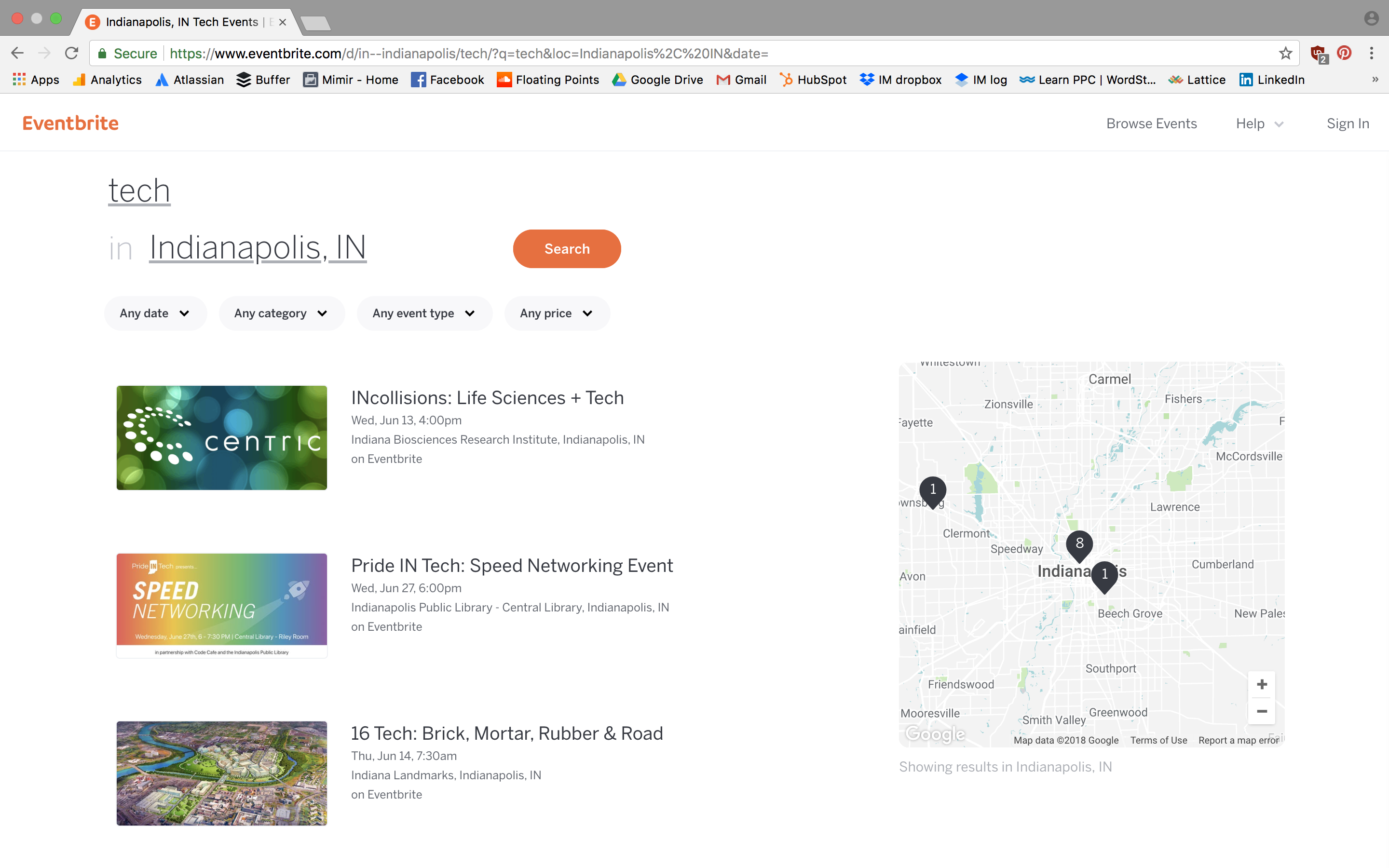 My final resource was searching for relevant groups on LinkedIn groups. It's becoming more apparent that these various networking and social groups are finding value in cross-promoting their events on multiple channels (including LinkedIn). Events and meetups can be posted within a group, as a reoccurring event under the title of a company (think Ladies in SaaS), under a hashtag, or by location tag. I highly recommend exploring each of these search methods if you're looking to test or join interest groups or organizations. Below are some handy hashtags that Indy-based events often use:
#Indytech

#womenintech

#indyWIT

#Techcommunity

#Indianapolis

#Meetup

#techind
If none of these groups or searching methods glean worthwhile opportunities, I'd recommend asking your friends and acquaintances from other tech companies for referrals. In true tech fashion, we, the techies, support one another and strive to be collaborative and inclusive. Whether we're using each other's products or participating in a Powderkeg Tech Census, there's always an opportunity for us foster personal or professional growth.
What is your favorite Indianapolis-based organization or social interest group? How did you get involved? Comment below!