Here at Mimir, we operate by one mantra perhaps more than any other:
"If we don't know how to do it, we'll find out."
We approached building out our office space with that very sentiment. Designing a space without an architect or interior designer on hand can be daunting in a corporate setting, but is nowhere near impossible. Here is what we learned while DIYing our office space.
Making it green
A little green goes a long way in livening up a space. In fact, many ecological studies indicate that plants remove harmful indoor air pollutants, increase oxygen levels, and induce a feeling of overall well-being. At Mimir, we enjoy low-maintenance air plants in our kitchen and lounge areas, 3-foot majesty palms, and succulents along our windowsills. We even keep a tropical ixora coccinea tree in our conference room, which stays warmer and brighter than the rest of the office.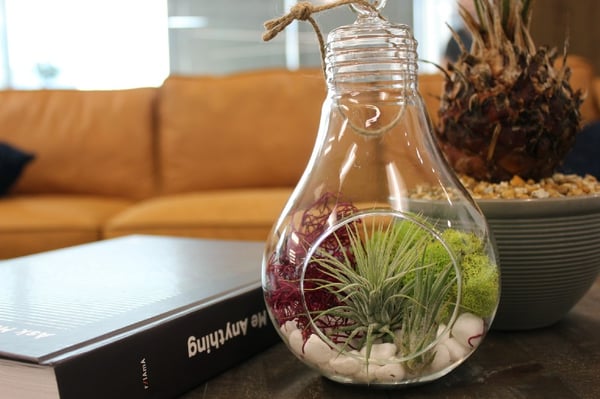 Measuring and surveying visual weight
Being in the heart of downtown Indianapolis, furniture galleries are few and far between, so we ordered several pieces without viewing them firsthand. If you find yourself in a similar position, make sure to pay attention to measurements before you buy. For chairs and sofas, look for the height from the floor to the seat of the piece, from the floor to the arm, from the floor to the top, and for the depth of the seat from the front. You'll want chairs and sofas to be nearly the same height — especially if you plan to use them for a collaborative or meeting space — so that all parties are on the same level. In addition, end tables should be no more than a couple inches taller the arm and a coffee table surface should be at about seat-level.
Another strategy to consider when arranging furniture is the visual weight of your pieces. It's important to give each piece its own space and not over-furnish any side of the arrangement. Symmetry and general gut instincts are your friends here.
Considering the audience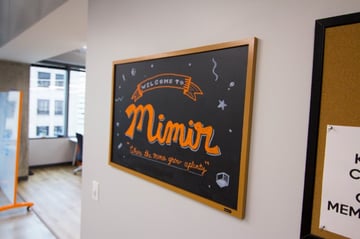 Ultimately, any office space is about the people that inhabit it and it's important to allow others to volunteer their ideas in the process. Even if one person is tasked with designing the space, you never know what kind of interior design knowledge might be hiding in the brains of your colleagues.
While your team may choose not to comment on the space, pay attention to their interests and work styles. At Mimir, we have quite a few doodlers in our midst, so we placed a chalkboard in the break room expressly for that purpose.
Mixing materials, colors & textures
One common decorating mistake is attempting to precisely match an existing material or color. Most of the time, you won't find a table that conforms to the color and finish of your wood-grain floor or a pillow that is the exact shade of blue as the one in your rug. Mimir's primary flooring has a more natural, unfinished oak look, but since the striations and knots are darker in color, we felt comfortable contrasting with darker wood accents. In keeping with the industrial look of concrete structural pillars, we also utilized furniture with dark metal accents. The result is a mixed-media appearance with interesting textures and pops of Mimir-orange to draw the eye.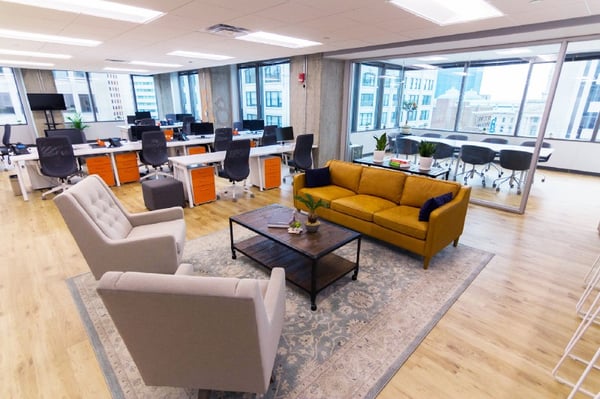 If you're just beginning your journey into startup interior design, I recommend checking out Poppin for functional office furniture and West Elmto give your space the right amount of that "living room" feel.