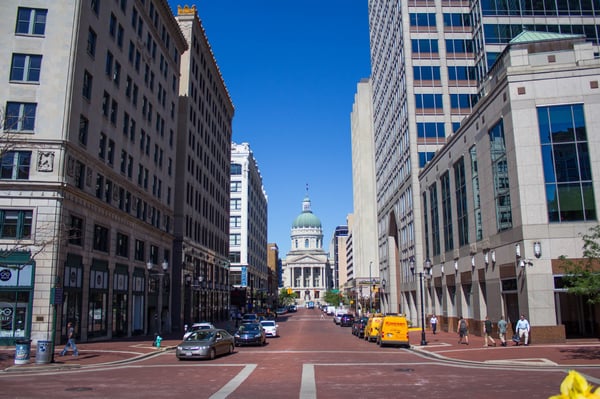 Photo by Mimir's very own, Cole Johnson.
In 2016, I said goodbye to my corporate 9–5 in the beautiful city of Los Angeles. I packed my bags to pick up where I left off, back in Indiana, with a project called Mimir. As a Hoosier native, the return offered a fresh perspective on the place I spent the better part of my early years. Since grafting my roots in the Midwest, the team at Mimir has worked to expand and establish a presence in Indianapolis' technology ecosystem.
Throughout Mimir's expansion I've gained experiences that have shaped my views of the world and business. Whether you're interested in following your dream to the Indianapolis area or simply doing business here, there are many factors to consider. Few places are as hospitable and truly excited to see the burgeoning of technology in business and to better emphasize, I've compiled a number of key principles that influenced our decision to make Indianapolis Mimir's home.
Funding
All start-ups begin with an idea but savvy business owners know that ideas don't pay the rent. From raising seed funding to the prospect of acquisition, cash rules the startup world. Let's face it, most start-ups can't begin without funding.
The Midwest and Indiana specifically, have provided incredible opportunities for cofounders at Mimir to fundraise from the comfort of our new home. Early successes by a number of Hoosier innovators have created an environment that is ripe with forward thinking investors and access to venture funding.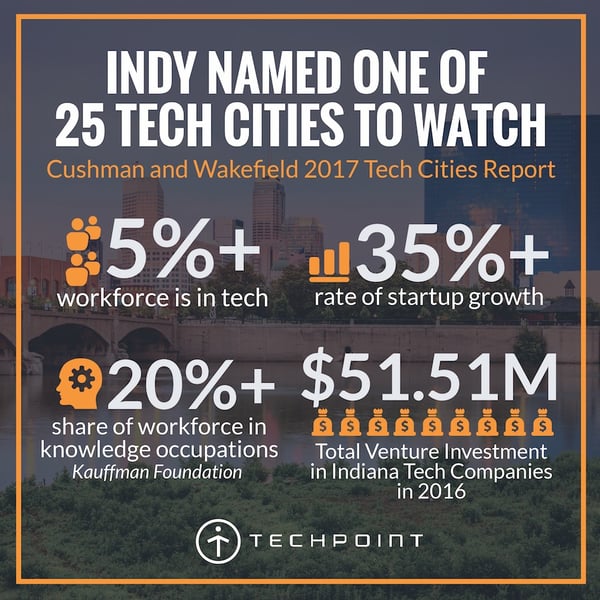 Compliments of TechPoint. http://techpoint.org/2017/06/indy-25-top-tech-cities-report/
When seeking funding in Indianapolis it's important to know that the expectations of Midwestern investors are grounded in reality. Expect to find realistic valuations based on a substantially lower cost of doing business when compared to places like Silicon Valley. This same principle drives the value of each investment and extends the life of each dollar raised.
Company
At Mimir we certainly weren't the first to place our headquarters in Indianapolis. A growing number of domestic and global businesses are making the switch to Indiana's business-friendly policies. Recent local headlines are fraught with examples of organizations looking to capitalize on the growing tech ecosystem.
In 2016, SalesForce announced plans to hire 800 highly skilled technical workers and take over lease of Chase (now SalesForce) Tower. India-based Infosys followed suite by announcing a 2,000 employee expansion into the downtown area. The Kauffman Index of Startup Activity also documented the growing rate of entrepreneurs within the state.
But this tech atmosphere didn't develop overnight. Indiana-based institutions have cultivated a local talent pool and given them entrepreneurial resources. Schools like Purdue University (insert shameless plug for alma mater), Indiana University, IUPUI, University of Indianapolis, and Butler University are abounding with highly qualified tech innovators while partners like TechPoint help pair that local talent to the businesses that power this ecosystem in the Indianapolis community.
Cost
As a former Los Angeles resident I can speak firsthand to the influence that cost of living can have on a personal budget. Indianapolis and nearby suburbs provide employees at Mimir affordable housing costs and an overall lower cost of living. In fact, L.A. is 84% more expensive than the Circle City.
Inflated costs translate to business expenses too, but maintaining low reoccurring costs (like rent) help create cash on hand. Indianapolis comes in at roughly 1/10th the price of commercial rental space when compared to areas like the Silicon Valley. Managing expenses early can extend a company's runway, expand a core product offering, or provide additional employee benefits.
Accessibility
Indianapolis as a city is extremely accessible even without mass public transit. It's also true to it's name, "The Crossroads of America" by being a couple hours or less from places like Chicago, Cincinnati, St. Louis, Louisville, and Nashville.
Above the roadways, Indianapolis International Airport is among the world's best. IND offers flights to virtually every major domestic airport in addition to daily flights to and from both coasts. In Indianapolis you're never far from your clients and they're never far from you.
I've been encouraged to return to a familiar place that I love to pursue my dreams. The resources within Indianapolis have rewarded our team with financial resources necessary to thrive in an talent-rich ecosystem. The city's business-friendly mentality and futuristic focus have made it the perfect place for aspiring and accomplished entrepreneurs to call home.